---
Current Cost-Share Program:
The Wayne County SWCD was awarded two grants beginning in 2019 to assist landowners with the funding of approved conservation practices in high priority watershed areas. 
The Clean Water Indiana Grant and the LARE grant are both potential funding options to help with your conservation efforts.  Please contact the SWCD at 765-966-0191 x3 for further details.  Thank you!
Now accepting grant applications for LARE & CWI Grant Funding for stream exclusion practices. Please contact Kayla Welter with any questions, 765-966-0191 x3.  Applications due by May 28th.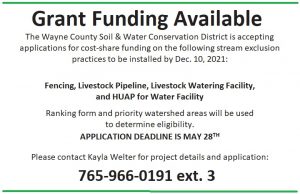 ---