E-waste Collection coming soon! Check out the list of accepted items below. Please note, a $20 fee will be collected for each TV and computer screen you bring in for this event.  Thank you SCHS National Honor Society for hosting this special collection!
Tire Collection and additional location for E-waste collection:
Fall Fundraiser of Native Trees and Shrubs –

The Brochure will explain what you need to know about the items you have purchased: 2021 Fall Brochure for online posting   Planting Instructions
Wayne County SWCD receives $1000 grant funding from Whitewater Valley REMC's Round Up program for 2021 Conservation Days.  A big thank you to all that participate in this program to help make this a fun event for our 3rd/4th grade students here in Wayne County!!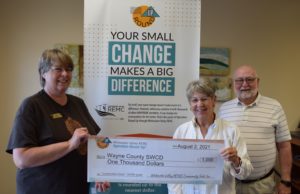 Wayne County Soil & Water Conservation District – news release
SAVE THE DATE!
Pasture & Livestock Field Day

* October 14, 2021 * Hagerstown High School Beef Farm * Start time 5:00 pm * More details to come!
Wayne County CISMA: 
What is a CISMA, Cooperative Invasive Species Management Area?  Join this locally led group to learn about invasive plants, why we should plant native plants, and about WIPER  by clicking here: WIPER insert with butterfly info 2020
Updated 2020 Indiana Invasive Plant list:
link: https://www.entm.purdue.edu/iisc/invasiveplants.html
pdf: 2020_IN_InvasiveList common
Wayne County Resource Inventory Council's Barn Preservation presentation from 2020 SWCD Annual Meeting: if you missed out or would like to review again, click here for a PDF version:

2020Wayne County Barn InventoryRev2 

 WHITEWATER RIVER COST-SHARE PROGRAM
The cost-share program will provide cost-share funds to landowners located within pre-determined priority watershed areas for a variety of practices, including, but not limited to, cover crops, riparian plantings, buffer strips, water and sediment control basins, forage and biomass plantings, and nutrient management plans. Practices used to fence livestock currently accessing streams will also be funded—these include fencing, watering facilities, pipeline to watering facilities, and heavy use area pads. A small amount of funding is also available for invasive species removal and control.  Additional information can be found below:
---
---