INVASIVE SPECIES AWARENESS WEEK – Proclamation by Governor Eric Holcomb – April 7-13, 2019      2019Proclamation Invasive species week 4-7-19
POND CLINIC – May 30th at Scott Pond, Hayes Arboretum.  5:30 pm to 7:30 pm.  Click for details: PondClinic2019
WEED WRANGLE April 20 at Hayes Arboretum.  Click for further details: Weed Wrangle_poster
Free E-Waste Recycling

at IU East Campus in the  Whitewater Parking Lot, Saturday, April 27th, 9AM to 12Noon.

Click here for more information ->  E-Waste Recycling Flier Revised 10-19-18
AG Plastic Collection Event

is happening again!  April 17 & 18 at East Terra Plastic's new facility in Connersville from 9AM to 3PM.

See flyer for more information  AG PLASTIC COLLECTION EVENT April 17 18 2019
Family Earth Day Celebration –
Saturday, April 27 2019 10AM-2PM

  –>
Family Earth Day Celebration 4-27-19            Be sure to stop by our booths 🙂                                                       

T-Shirt Design Contest deadline April 25th see details below

 –> Family Earth Day t-shirt design contest flyer
Richmond Parks Whitewater Cleans-Ups

from April 7th through September 29.

See flyer below for more information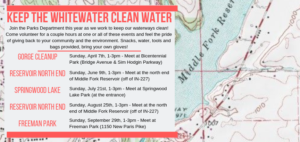 City of Richmond 2019 Spring Clean up

– runs from April 27th through June 7th.  Check the schedule and map for your neighborhood collection date.

Schedule:  City of Richmond 2019 Spring Clean up flyer

Map:  2019 City wide clean up map – with dates

 WHITEWATER RIVER COST-SHARE PROGRAM
The cost-share program will provide cost-share funds to landowners located within pre-determined priority watershed areas for a variety of practices, including, but not limited to, cover crops, riparian plantings, buffer strips, water and sediment control basins, forage and biomass plantings, and nutrient management plans. Practices used to fence livestock currently accessing streams will also be funded—these include fencing, watering facilities, pipeline to watering facilities, and heavy use area pads. A small amount of funding is also available for invasive species removal and control.  Additional information can be found below:
2018 Challenge Match Grant! 
Wayne County Soil and Water Conservation District would like to thank all the donors that helped us to reach our match amount!  Your generosity will help us to provide outreach educational opportunities for our community. We sincerely thank you!
Congratulations to Wayne County's recipient of the River Friendly Farmer award!  Phillip and Linda Bowman of Bowman Superior Genetics received this prestigious award on August 15, 2018 at the Indiana State Fair.  For further details, please visit: http://wordpress.iaswcd.org/river-friendly-farmer-award/
SWCD NEWSLETTERS:
---
---