Native Flowers & Grasses, Kiln- Dried Nestboxes & Feeders, Pre-order 55 gallon Rain Barrels
E-Waste Collection – Saturday, April 29th 9AM to Noon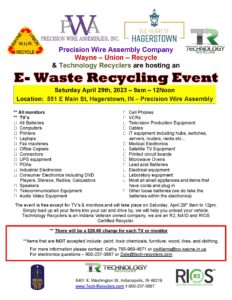 Hagerstown Event 4-29-23
Conservation Focus Workshop & Pesticide Recertification March 23, 2023 – 9:00am – 1:30pm
Meal registration link: https://www.eventbrite.com/e/conservation-focus-workshop-pesticide-recertification-parp-tickets-536193869297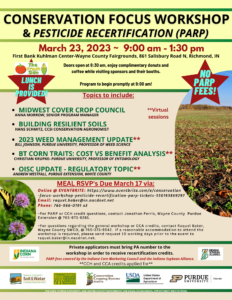 Prescribed Fire Workshop at Hayes Arboretum, March 18, 2023 – 9AM-Noon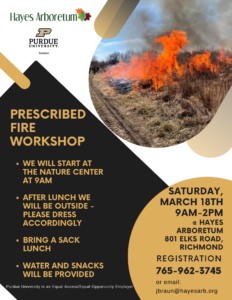 Wayne County Soil and Water Conservation District receives a Whitewater Valley REMC Round Up Grant for Conservation Days 2022.  Read the attached press release for more details.
Thank you Whitewater Valley REMC for helping to fund this event for our 3rd / 4th grade students!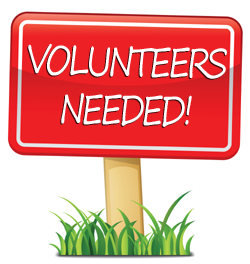 The

Wayne County Soil & Water Conservation District

is currently looking for volunteers to form a Fact-Finding committee to gather information with the intent to apply for a future Clean Water Act Section 319(h) grant, which provides funding for various types of projects that work to reduce nonpoint source water pollution.
Previous watershed based 319 grants implemented by the SWCD include the Whitewater River Initiative and the Friends of the Middle Fork, which were extremely beneficial in providing cost share assistance to eligible Wayne County landowners for the installation of best management practices to their land.
If you are interested, please email SWCDWayneCounty@gmail.com or call the SWCD office at 765-966-0191 x3. We look forward to hearing from you!
Wayne County CISMA: 
What is a CISMA, Cooperative Invasive Species Management Area?  Join this locally led group to learn about invasive plants, why we should plant native plants, and about WIPER – Wayne Invasive Plant Education & Removal
Like and Follow WIPER on facebook now too!  https://www.facebook.com/WIPERCISMA 
Updated 2020 Indiana Invasive Plant list:
link: https://www.entm.purdue.edu/iisc/invasiveplants.html
pdf: 2020_IN_InvasiveList common
---
---