Wayne County Soil & Water Conservation District Fall Fundraiser

–
Taking orders now through September 13th

.            5-gallon trees & shrubs, kiln dried cedar nestboxes and feeders, and rain barrels!  Also taking special request orders for trees & shrubs of different species and other container sizes.
2019 Fall Brochure    Funds raised go toward our education and outreach programs 😀
2019 Fall Order Form – 5 pages    Print just the pages you need (1-4) and page 5 that has all the total and information we will need.  
Please call the office if you would prefer a copy of the brochure and order form be mailed to you – 765-966-0191 ext. 3
Interested in invasive species?  Exciting opportunity, click below: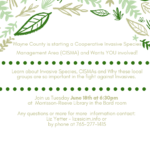 Welcome Vince Pitstick!  Vince is the new NRCS District Conservationist located in the Richmond USDA Service Center.  Please read a few words from Vince:
"I was born and raised in Jasper Indiana, and grew up assisting farmers and landowners with in a few miles of my parents house. Growing up around farming and having a strong work ethic was very influential but ultimately conservation was my passion. My father was a District Conservationist in Dubois County and worked for the agency for 30 years. I enjoyed growing up learning about the land and agriculture. I pursued my dream of working with the land and how we can improve the quality of the land through good stewardship. Above conservation is my family, My wife Stephanie and three wonderful children Emmett, Everett, and Violet. We are looking forward to the challenges and rewards this next chapter of our lives may provide."
Free E-Waste Recycling

at IU East Campus in the  Whitewater Parking Lot

4th Saturday of the month 9AM to NOON

Click here for more information ->  E-Waste Recycling Flier Revised 10-19-18
Richmond Parks Whitewater Cleans-Ups

from April 7th through September 29.

See flyer below for more information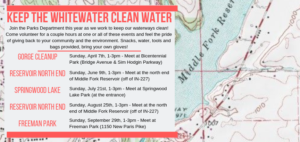 WHITEWATER RIVER COST-SHARE PROGRAM
The cost-share program will provide cost-share funds to landowners located within pre-determined priority watershed areas for a variety of practices, including, but not limited to, cover crops, riparian plantings, buffer strips, water and sediment control basins, forage and biomass plantings, and nutrient management plans. Practices used to fence livestock currently accessing streams will also be funded—these include fencing, watering facilities, pipeline to watering facilities, and heavy use area pads. A small amount of funding is also available for invasive species removal and control.  Additional information can be found below:
2018 Challenge Match Grant! 
Wayne County Soil and Water Conservation District would like to thank all the donors that helped us to reach our match amount!  Your generosity will help us to provide outreach educational opportunities for our community. We sincerely thank you!
Congratulations to Wayne County's recipient of the River Friendly Farmer award!  Phillip and Linda Bowman of Bowman Superior Genetics received this prestigious award on August 15, 2018 at the Indiana State Fair.  For further details, please visit: http://wordpress.iaswcd.org/river-friendly-farmer-award/
SWCD NEWSLETTERS:
---
---