Conservation Days 2023 – Home school groups – see information below and pre-register by September 22nd!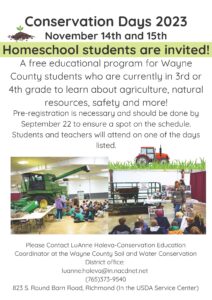 Library-Social media post for homeschools Conservation Days 2023
Conservation Days is an event for local 3rd and 4th grade students in Wayne County, Indiana. Students and their teachers learn about and experience a variety of subjects in Agriculture, Natural Resources, Safety, and more. This program is available to students in public, private, and home school classrooms that register to attend.
Conservation Days 2022 was back in-person!!  Due to new limits, the full Thank You letters to the editor cannot be published in its entirety, so you can find a link to it below and see all those involved to make this event such a special learning experience for our Wayne County students.  Thank you everyone!!
Thank you article for Conservation Days 2022 – Full letter to editor 1-23-23
Link to Indiana Agricultural Literacy –