Conservation Education Intern position, undergrad student 12-20 hours a week
http://co.wayne.in.us/job_openings/index.html
Stewardship Program
For more than 50 years, NACD has sponsored a national program to encourage natural resources stewardship. The program relies in large part on conservation districts as they share and promote stewardship and conservation activities year-round and during Stewardship Week, the last Sunday in April to the first Sunday in May. The theme for NACD's 2018 Stewardship Week is "Watersheds: Our Water, Our Home." Check out our Stewardship Program for additional information.
Watershed_2_3Booklet_pgs_dft4_lr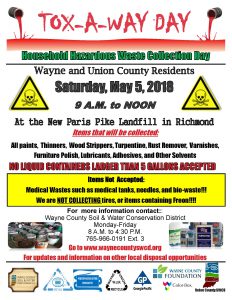 Free E-Waste Recycling – The next collection day will be the 4th Saturday of the month from 8AM to 12Noon at IU East
For more information:   E-Waste Recycling Flier Revised 7-24-17 
Wayne County SWCD was a recipient of the Ball Brother Foundation Rapid Grants!
http://www.thestarpress.com/story/news/local/2017/12/06/ball-brothers-foundation-awards-rapid-grants-totaling-nearly-100-000/926435001/
Wayne County SWCD is recipient of a $2500 Wayne County Foundation Challenge Match Grant!
Wayne County Soil and Water Conservation District would like to thank all the donors that helped us to reach our match amount!  Your generosity will help us to provide outreach educational opportunities for our community.
Please read the following articles to remain up to date on these practices!
SWCD NEWSLETTERS:
---
---